The Serbian-Hungarian Strategic Council will hold its inaugural meeting on Tuesday. The event will take place in Palic, Vojvodina, where – besides the negotiations – several joint documents will be signed. Hungary will be represented by President Katalin Novak, PM Viktor Orban and several members of the government, while the Serbian side will be represented by President Aleksandar Vucic, PM Ana Brnabic and her cabinet.
Relations between Belgrade and Budapest are at an historic high, as evidenced by the fact that in recent years they have held several joint government meetings and now they are establishing a Joint Strategic Council. In connection with this, Hungarian Foreign Minister Peter Szijjárto, during his visit to Belgrade in May, underlined in an interview with Pannon Television in Subotica that they'll set up ten working groups in various fields, which will help in further deepening cooperation between Hungary and Serbia.

Economy, transport, energy
The two countries have worked together on a number of key issues in recent years, and they will try and continue their cooperation in the aforementioned areas. One of the most important of these is economic cooperation, including road, rail and shipping links, as well as energy partnership. The two countries already have a joint economic committee and trade turnover is at a record high, with major Hungarian economic players among the market leaders in Serbia, said FM Szijjarto during the interview.
The economic development program of the past few years has yielded great results, which has produced a win-win situation, Hungarian Deputy Prime Minister Zsolt Semjen said at an earlier government meeting.
This is good for Hungarians living here, because they can make a living in their homeland. It's also good for the local Serbs, because it means job opportunities and infrastructure development. It's good for Hungary, because the Hungarian economy is expanding, and it's good for Serbia, because the Serbian economy is also expanding, with new investments coming.
− Deputy PM Semjen stressed.
The high-speed railway link connecting Belgrade and Budapest is now well under construction. It will enable fast and comfortable passenger transport for people living in and between the two capitals, as well as the movement of Eastern goods and Western products bound for, or arriving at the Greek port through Hungary and Serbia. The 350-km railway project will be financed with funds from the Export-Import Bank of China. The section between Belgrade and Novi Sad is already in operation and is scheduled to open in full length in July 2025.
Cooperation between the two countries is also important in the field of energy.
Today, there is no Hungarian energy security without Serbia, and there is no Serbian energy security without Hungary. This is the highest possible level of cooperation, a cooperation based on trust that can be established between two countries,
− FM Szijjárto has said.
Joining forces against illegal migration
The issue of illegal migration is a grave concern for both Serbia and Hungary, and it is expected to be a central topic during  Tuesday's meeting.
Illegal migration is not only a challenge in itself, but its consequences are also a security challenge, because the flows of illegal migration are allowing terrorists – or activists of terrorist organizations – to come and go freely, as it is relatively easy to hide in such massive waves of illegal arrivals,
– FM Szijjárto stressed.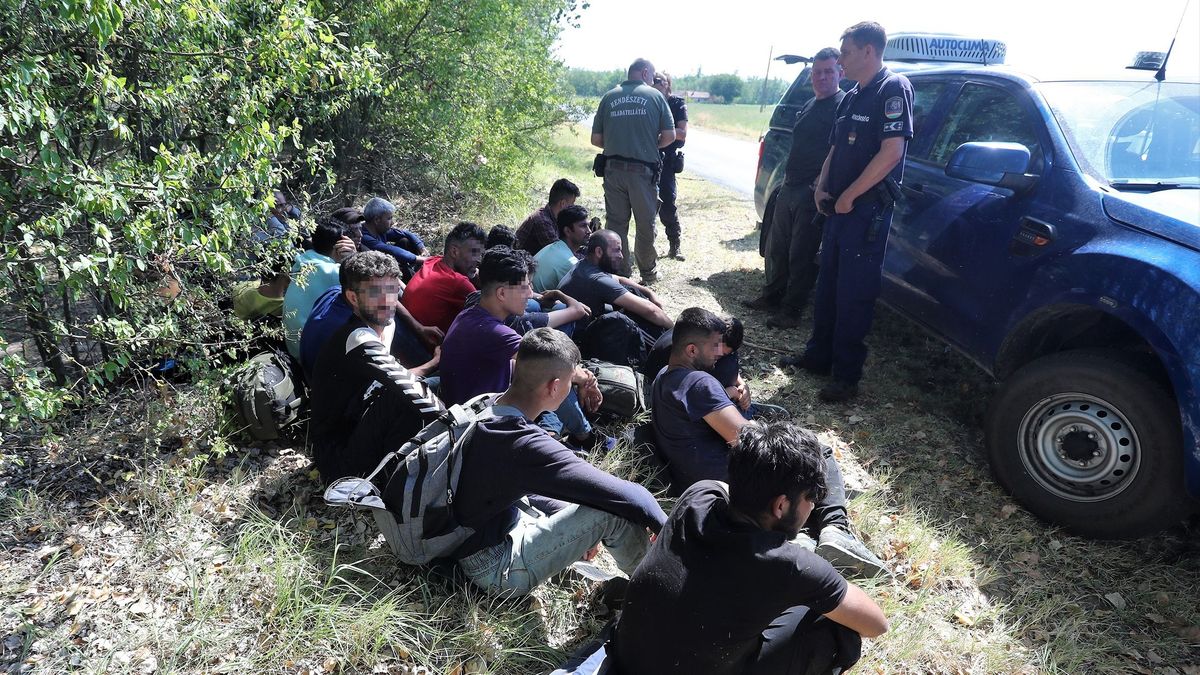 This is why it's crucial that the area of defense is also brought into line with other fields already managed effectively in cooperation, he said, arguing that if illegal migration gained new impetus, the threat of terrorism in the region would grown significantly, which is something the two countries wish to avoid.
The importance of joint and sturdy action is also justified by the events of recent days. On Saturday, migrants clashed in a forest near Subotica, where the sound of gunfire could be heard for hours. Many were injured in the incident, all of them illegal migrants.
Locals are expecting strong and determined action from both the Serb and Hungarian authorities, as they say they are living in fear because of the constant presence of migrant gangs heading towards Western Europe.
In terms of border protection, cooperation between the two countries is continuous. Last December, Hungarian President Katalin Novak and Serb President Aleksandar Vucic held a press briefing on the issue along the border fence, with Hungary's president underscoring the significance of border protection:
The purpose of the border fence is to protect our territory and our security. It is also the border of the European Union. If we join forces to defend this border, we will be defending the whole of Europe and the peace and security of its people.
Serbia's president spoke about armed groups and criminal gangs linked to migration:
We'll take tough action against those who belong to armed criminal gangs. Not far from here, in Subotica, Palic and Horgos, law enforcement officers have been involved in armed clashes in several places. Authorities have successfully apprehended all those who thought they could get others involved in illegal migration too, by using weapons and other unlawful methods.
Situation at the border
The issue of border crossings is one that affects both the economy and the local population. There are nine crossing points between Serbia and Hungary, three of which are open 24 hours each and every day, while the others are open from 7 am to 7 pm. However, the transport corridor through the two countries – linking East and West – is one of the busiest in Europe, thus perhaps it's the most heavily frequented route by migrant workers in Türkiye and the Balkans who try to reach the West. The crossings are busiest in the summer, when traffic swells not only at the Horgos-Roszke crossing point, but also at all the smaller borders. Waiting times can be as long as 6 to 8 hours with trucks and lorries forming long queues, because this route is also a key pathway in terms of goods transport.
The two sides have discussed several border development plans of late.
A major infrastructure development will include a new, modern border crossing between Roszke and Horgos, which serves as an entry point for highway traffic now. It is one of the busiest border crossings in Europe and we want it to be one of the most modern border crossings in the future,
– FM Peter Szijjarto said back in May, after a meeting of the Serbian-Hungarian Joint Economic Committee in Belgrade.
Preparations for the necessary improvements had begun, he added, stressing that they had also agreed to distribute the pressure on the border crossing by making the Bereg-Hercegszanto border crossing suitable for truck traffic, and the Kiralyhalom-Asotthalom border crossing suitable for bus traffic. Plans are also afoot to extend the opening hours at these the border crossing points, he said.
EU integration
Hungary is one of the biggest supporters of EU integration for Serbia and the Western Balkans. Hungarian politicians have repeatedly emphasized in Brussels that the accession of the countries concerned to the European Union is crucial for the stability, peace and development of the region. It's not just that Serbia needs the EU, but the EU also needs Serbia, Hungary's prime minister said during a previous cabinet meeting. PM Orban said as early as in 2019, that
if the EU does not undertake another great mission, its performance will decline. Serbia's accession to the EU as soon as possible is in the interest of all EU member states.
Despite this, the integration process has virtually come to a standstill in the last year or so, with Serbia receiving nothing but criticism from the EU. The main reason is Belgrade's failure to introduce sanctions against Russia, which Brussels condemns, while Belgrade fails to understand why it should follow any EU expectations if it is not a member of the bloc.
Relations between the two countries at an historic high
The cooperation between the two countries' governments and the historic friendship that has developed in recent years have greatly helped the coexistence of Serbs and Hungarians, both in Serbia and in Hungary. Serb Prime Minister Ana Brnabics has already thanked the Hungarian government on several occasions for what they have done for Serbs living in Hungary in the fields of education, culture and church development, and said she would guarantee that Serbia's government would also take positive decisions regarding the situation of Hungarians in Serbia. Serb Foreign Minister Ivica Dačić, also at a joint government meeting in 2019, said that the good relations between Serbia and Hungary are largely due to the Hungarian community in Serbia, which forms a bridge between the two countries.
The road to the current successful cooperation between the two peoples has led through historical reconciliation. Ten years ago the two countries former presidents Tomislav Nikolic and Janos Ader paid a joint tribute to the innocent Hungarian and Serbian victims of World War II in Csurog, Vojvodina.
At the event, Hungary's former President Ader underlined that this was a clear message to all Hungarians and Serbs, that we have the strength to face the past and the truth, and that Central Europe in the 21st century is being built on such gestures.
Hungarians in Serbia are one of the biggest beneficiaries of the successful cooperation between Serbs and Hungarians. This is why the Alliance of Vojvodina Hungarians (VMSZ) has played and continues to play a major role in ensuring strong ties between Belgrade and Budapest.
If necessary, we are ready to assist in this to the best of our ability.
– VMSZ Chairman Istvan Pasztor told Pannon RTV's Public Affairs program.

The president of VMSZ added that the formation of the Strategic Council on June 20 is also important, because the two countries had previously signed a strategic agreement on cooperation. The Hungarian politician underlined that the council was intended to ensure the revival of this agreement.
Cover photo: PM Viktor Orban (left) and Serbian President Aleksandar Vucic in Belgrade on 19 June 2023 (Photo: MTI/Prime Minister's Press Office/Benko Vivien Cher)